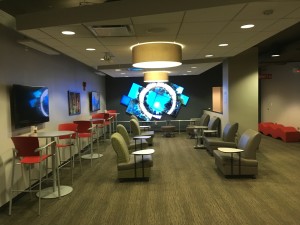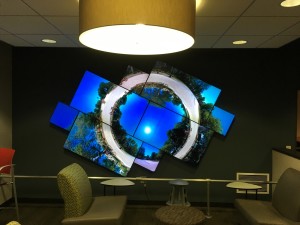 Keeping this wall interesting is an ongoing task.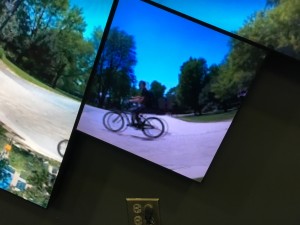 My students and I are routinely considering what should be the next moving image for the university to consider. Sometimes it is abstract – other times it is literal or instructional or in the public service.
The most recent offering is one of my original compositions.
Outer Inner
Bigger Better
us a video loop inside of a video loop that is looping video.
Using a 360 camera I shot a turnabout with bicyclists riding in circles
The wheels  were round, the gears were round the street was round and the video was round.
The day we shot this video Kipp and I wrote this song on our new keyboard before bedtime.
music by the Robot Pancakes.
Previous pieces include
This one was made by the Plato Township.
Music and video by Me John and Matt.
Brad was the spy.
This one has music that was made by the band 55
The drawing was on my first iPad.